The Community Foundation of the Fox River Valley and the Dunham Foundation partnered with a national consulting firm to conduct a Community Needs Assessment, which began in 2021.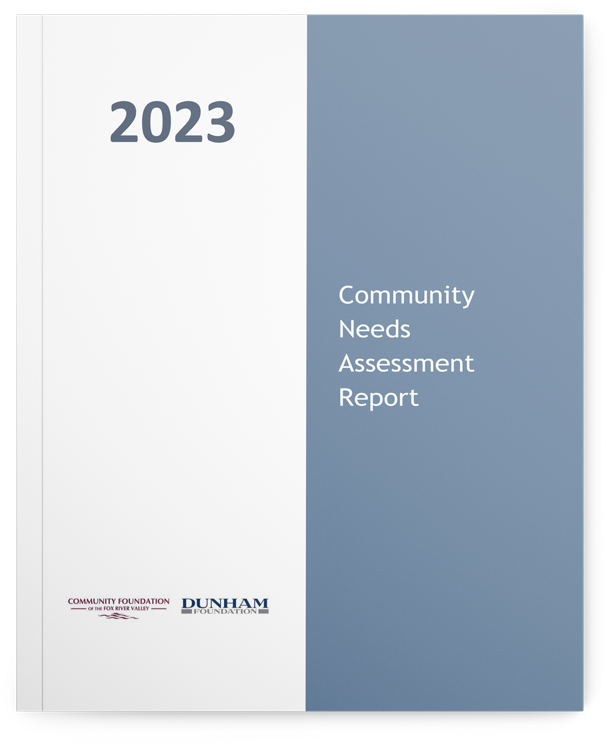 Neither organization had embarked on such an endeavor; however, emerging from the pandemic, it seemed appropriate to understand the scope of services provided by nonprofit organizations serving Kane and Kendall Counties and the gaps in services for those who live in those communities we serve. Many needs have been amplified because of the pandemic, while other needs have shifted in the past three years.
In 2022, the consultants collected information from data sources such as the Census, County Health Rankings, the Illinois Department of Children & Family Services, and the Illinois Department of Public Health. Nonprofit Surveys, Focus Groups, and Key Informant Interviews were also conducted to gather information from a wide array of participants to ensure robust data needed to understand the challenges and needs facing our communities.
On April 19, 2023, both organizations, along with the consulting firm, presented the Community Needs Assessment findings to nonprofit leaders and community stakeholders representing Kane and Kendall Counties.
We are proud to present the final report to you as a resource and encourage you to read the report, use the data within it, and share it with peers at other organizations for their benefit.
The community disparities were assessed using a specialized Index, focusing on race, ethnicity, and gender. This comprehensive analysis reveals critical insights into how different subgroups within the community experience disparities.
This systematic effort identified trends, patterns, and gaps, while offering opportunities to develop effective strategies to address our unique community needs.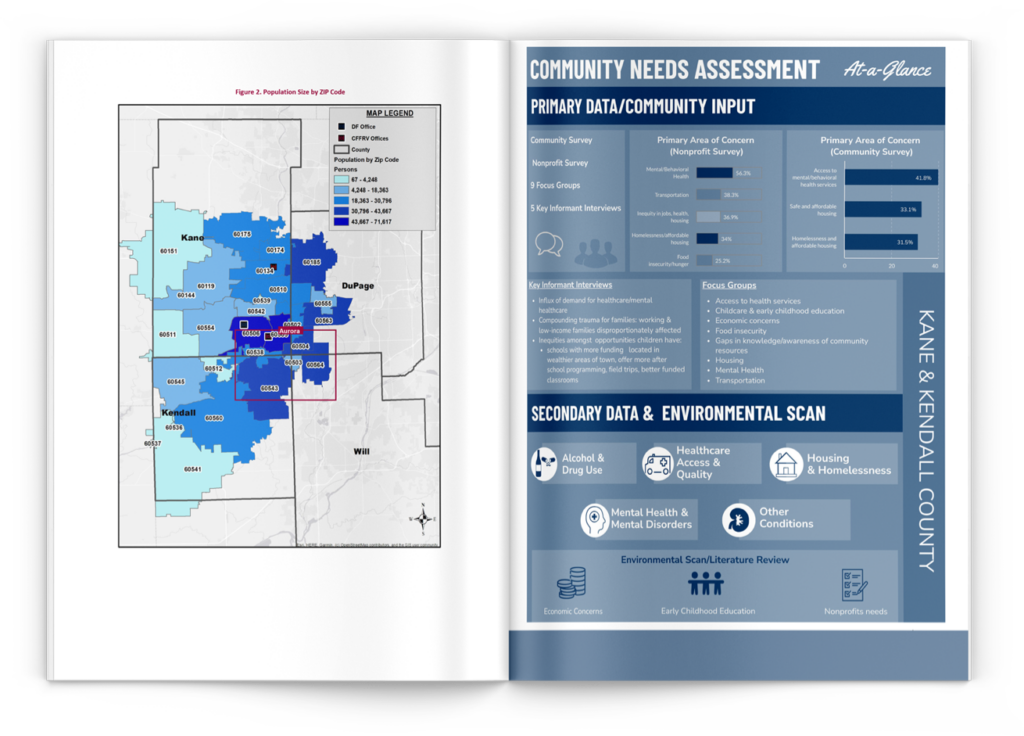 Click here to download the 2023 Community Needs Assessment Report
This report highlights several areas where increased resources are critical to improving education, driving economic growth, and strengthening communities across Kane and Kendall Counties.
Education
COVID-19 exacerbated learning loss and behavioral issues with students, and contributed to burnout among teachers. Furthermore, schools in lower-income areas lack resources to address these challenges.
Child care/early childhood education: affordable and accessible child care is a barrier for many working parents. Overall, there is a lack of awareness of the importance of early care and educational programs and why it's important to ensure programs with more spaces are available for children.
There is a need to provide programs that tackle under-resourced schools and poverty issues affecting education, such as tutoring, college prep and affordable youth programs.
The student-to-teacher ratio is high in Kane (15.6) and Kendall (15.7) Counties compared to the state (14.6), indicating large classroom sizes.
Only 85.7% of adults 25+ have a high school degree in Kane County compared to 92.3% in Kendall County.
Economic Growth
Access to GED programs, job skills training, and financial literacy are important resources for individuals joining the workforce and contribute to their upwards economic mobility.
Key economic concerns are rising costs, stagnant wages, unemployment, and lack of living wages. These contribute to financial instability.49.4% of renters in Kane County and 46.9% in Kendall County spend 30%+ of income on rent, showing a lack of affordable housing.
Median household income disparities exist by race/ethnicity, with lower incomes among Black, Hispanic, and Native American groups.
49.4% of renters in Kane County and 46.9% in Kendall County spend 30%+ of income on rent, indicating a lack of affordable housing.
Community
Mental health, affordable housing, substance abuse, and transportation are top community concerns in the assessment.
Access and affordability of healthcare, food, and social services are major barriers, worsened by unreliable transportation options.
Nonprofits provide essential services but face capacity and funding constraints. More staffing and resources are required to fulfill missions.
We share this data with area organizations, and aim to generate dialogue and catalyze progress in our key funding areas of education, economic growth and community services, which will ultimately create more empowered communities throughout Kane and Kendall Counties.